A little background on wire sculped jewelry making.
Wire Jewelry is a beautiful way to express artistic creativity. It has been around for centuries and
is a totally accepted addition to your jewelry fashions. Wire jewely has become much more popular in the last few years and is a wonderful way to use your beads and cabachons or even set precious stones. The possiblities are ENDLESS !
Wire jewelry was around way back in Egypt and used in the construction of many historic pieces of jewelry. It is a method of cold joining and can be made from just about any metal. Wire jewelry making is as unique as the artist and can be used to set just about any shape of item. Lots of people use it for free form rocks and crystals and combined with elemental metals such as copper it has been used in healing arts and more.
Wire Jewelry is made with many types of wire. As more and more people find this art form, more types of wire are being developed to support the craft.
Nickel, copper,brass, jewelers brass (Merlins gold),Silver-both regular Sterling Silver and the newer Argentium Silver which resists tarnishing. Also Silver Filled is becoming very popular due to the higher cost of silver these days. Stainless steel wire is also popular but much harder to work with.
Our wire jewelry is made with Sterling Silver or 14K Gold Filled wire as well as copper, steel, stainless steel.
Each piece is made with love and care for a one of a kind piece of jewelry that is classy enough to be handed down from generation to generation. Many pieces have stayed in families for a 100 years or more to be passed from generation to generation.
All pieces will last a very long time with normal wear and care.
Many pieces are made with gemstones, both faceted gemstones and cabachon gemstones as well as agates which are a work of art in themselves.
Other pieces are made from my own handcrafted lampwork glass beads or cabachons and still others are made with cameos.
The Cameos are either acrylic, glass or shell.
All of these types of cameos are accepted as making a unique and classy piece of jewelry.
My jewelry has been displayed in local Jewelry stores as well as shows.

Made from gemstones, genuine stone cabachons, lab grown stones, handcrafted beads and other quality materials.
This is quality jewelry you will be proud to wear.


Individually handmade Glass beads.
Includes a wide variety of styles. Animals, Dogs, cats, horses,
Tree beads, Florals, Focal beads and much more.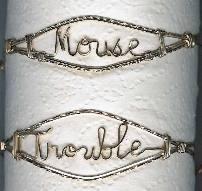 Lots to see !!
Super gift ideas if you are tired of the same old stuff...

Vist our Online Store by clicking this link--- Sylcraft Online Store
Don't miss our entirely unique
and much much more!!
See it to believe the variety and ALL handmade right here in the USA !!!
*******************************
Manufactured bead section includs:
Czech glass beads-firepolished,
Glass beads-hearts and rondells,
Pearl glass beads,
Heart beads in a variety of colors.
Czech Glass Pearls in many colors...
some HARD TO FIND glass pearl Colors such as Tahiti Black Glass Pearls.
More being added all the time.
Secure online Shopping too !

By the way.........be sure to check this site out as well...Not ours but a great place !
If you can bend a paperclip......
Preston Reuther can show you how to Start Your Own Home-Based Jewelry Business on Your Kitchen Table....
Preston Ruethers site at Wire-Sculpture.com is a wonderful place to visit. You will have access to tons of information on wire jewelry. Don't miss it !!!

Thanks for stopping by !! :-)
Sylvia Holtman
Owner/Artist
Sylcraft Studio
Yakima, Washington 98902


(c) Copyright 2000-2012 by Sylcraft Handcrafted Lampwork Beads and Wire Jewelry